50 years of Turkish steps towards and back from the European Union
Comments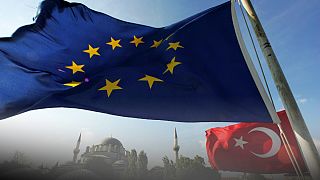 Turkey's first steps towards accession to Europe go back more than 50 years, when Ankara asked for an association agreement with the European Economic Community. Negotiations officially began in 2005.
But in 2013, the EU postponed talks on Turkey's possible accession to the bloc.
Nationwide protests followed what was described as the heavy-handed action of Turkish police after a protest at Istanbul's Taksim Square over the uprooting of trees in the square's Gezi Park.
An initially peaceful gathering turned violent when police tried to break it up.
---
Relations between Ankara and Brussels deteriorated further after this year's failed coup and the subsequent purges by the Turkish authorities targeting suspected instigators.
The EU criticized the extent of the purges including the arrest of leaders from Turkey's main pro-Kurdish political party the HDP.
'No peace, no future': In Turkey, HDP arrests fuel Kurdish discontent https://t.co/yJuRgFAHsX

— William Whiteman (@willmwhiteman) November 22, 2016
According to analyst Nail Alkan, the
EU's indifference to Turkey and its unwillingness to deal with the refugees in the country reflects rising anti-Muslim sentiment.
"Turkey can hardly be accepted as an EU member due to the existence of Islamophobia in Europe. The EU is now trying to avoid neighboring Iran, Iraq and Syria, the countries that border Turkey," Alkan said.
Children, smiling faces and a communal oven: follow David from gkstories</a> on his mission to a refugee camp in <a href="https://twitter.com/hashtag/Turkey?src=hash">#Turkey</a>.<a href="https://twitter.com/hashtag/MoreThanFoodEU?src=hash">#MoreThanFoodEU</a> <a href="https://t.co/7iszkincbi">pic.twitter.com/7iszkincbi</a></p>— EU Humanitarian Aid (eu_echo) November 18, 2016
In March 2016 the EU entered into a controversial agreement with Turkey: for every one Syrian refugee returned to Turkey, another would be resettled from Turkey to the EU. Ankara signed the deal in return for financial and political concessions such as visa-free travel for Turks.
WIth tensions rising, Turkish President Recep Tayyip Erdogan said if talks do not proceed according to plan, Ankara may hold its own referendum on EU membership.
"Let's be patient until the end of this year, then we will go to the people. Sovereignty unconditionally belongs to the people, so let's go to the people," Erdogan said.
In spite of the rising discord the EU insisted on continuing the process towards accession.
If the accession process came to an end, I believe we would, both, find ourselves in a lose-lose scenario," said the EU's High Representative Federica Mogherini. "Europe would lose an important channel for dialogue and leverage with Turkey. Turkey would lose a lot."
EU Resolutions Against Russia, Turkey Bring Moscow, Ankara Closer Together https://t.co/giy7uE5Gpe

— New Media (@new16media) November 24, 2016
Turkey said it could approach the Shanghai Cooperation Organization (SCO), whose partner nations include China and Russia.
Erdogan then announced Ankara's intention to strengthen its relations with Moscow.
President Erdoğan is looking for new partnerships, while EU is talking about holding #Turkey's Accession talks. #EU vs #ShanghaiPact . pic.twitter.com/Xn5lFprKr7

— Turkey and Facts (@TurkeyandFacts) November 24, 2016