Hurricane Otto bears down on Costa Rica
Comments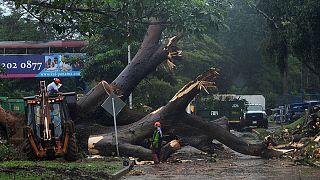 A late-season storm in the Caribbean has been upgraded to a hurricane as authorities in Panama reported at least four people had been killed and several were missing.
Heavy rains have triggered landslides trapping some beneath the mud – the cause of two of the deaths. A child was killed when a tree fell on a car parked outside a school in the capital Panama city.
3 killed as Hurricane Otto barrels through Panama en route to Costa Rica https://t.co/yUt1kih5tL

— Emergency Management (@EmergMgt) November 23, 2016
Panamá canal aftermath due to hurricane Otto pic.twitter.com/SKkA56rjmT

— Olga Montero (@montezu) November 23, 2016
The US National Hurricane Center says Hurricane Otto is now blowing at about 120km/h as it approaches northern Costa Rica and southern Nicaragua.
With hurricane strength winds on their way, orders to evacuate coastlines have been issued in both countries affecting thousands.
According to experts its rare for a storm of Otto's ferocity to make landfall so far south in the Caribbean. It could be the first to hit Costa Rica since 1851.
Hurricane Warning issued for portions of Nicaragua and Costa Rica coasts as Otto approaches with 75 mph winds https://t.co/68mVeKFeYdpic.twitter.com/MhDsvyretA

— BuzzFeed Storm (@BuzzFeedStorm) November 23, 2016