Britain's Brexit bonanza: slower growth, inflation and more borrowing
Comments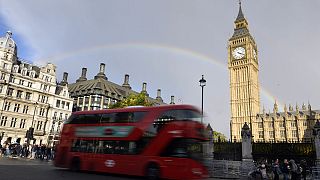 Phillip Hammond, British Chancellor of the Exchequer, the man in charge of the public purse has delivered his first autumn statement since taking over from George Osbourne and the premier treasury statement since the Brexit vote.
The Chancellor phammondMP</a> just gave his Autumn Statement speech to <a href="https://twitter.com/UKParliament">UKParliament – read it online. https://t.co/E8Vt7bKj35

— HM Treasury (@hmtreasury) 23 novembre 2016
Growth in the UK looks set to drop in 2017 as the chancellor warned:"In 2017 the OBR (Office for Budget Responsibility) forecast growth to slow to 1.4 percent, which they attribute to lower investment and weaker consumer demand driven respectively by greater uncertainty and by higher inflation, resulting from sterling depreciation."
The chancellor bemoaned British productivity saying it lagged behind the US, Germany,France and Italy.
New £2.3bn Housing Infrastructure Fund for infrastructure for up to 100,000 new homes in high demand areas #AutumnStatementpic.twitter.com/Bnp0LUYM5c

— HM Treasury (@hmtreasury) 23 novembre 2016
Hammond targeted monies to help boost production:"We choose in this Autumn statement to prioritise additional high value investment specifically in infrastructure and innovation that will directly contribute to raising Britain's productivity."
Tory economic failure: Borrowing has been revised UP by £122 billion #AutumnStatementpic.twitter.com/QbRZQ6wawl

— The Labour Party (@UKLabour) 23 novembre 2016
The chancellor is keen to keep Britain an attractive place to do business, so the treasury plans to stick to the business tax set out by his predecessor, George Osbourne.