Why Trump might not be the end of the world for globalisation
Comments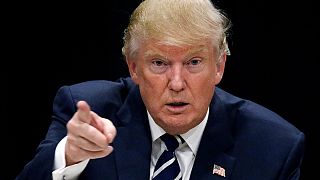 Global growth and development have been predicted to be one of the casualties of a Trump presidency hostile to free trade.
The president-elect has already vowed to cancel a deal (TPP) with Asia-Pacific countries and wants to renegotiate an existing one with Canada and Mexico. Meanwhile German chancellor Angela Merkel has poured cold water on the prospects of a US-EU trade deal being concluded while Trump is in the White House.
But, while some commentators claim globalisation is now dead, one expert says a Trump presidency may not be all bad.
Swati Dhingra, a globalisation expert from London School of Economics, said it could lead to a recalibration of the most intrusive elements of free trade deals.
"I think there's two types of globalisation," Dr Dhingra told Euronews. "One is the kind that saw tariff barriers removed across countries which most people think was good for efficiency.
"Then there are these very deep trade agreements which are very intrusive and impinge on national sovereignty and policy spaces, like the investment dispute settlement mechanism. If they are essentially being paused [in light of Trump presidency] that might not be such a bad thing."
Investor-state dispute settlement mechanisms are one of the most controversial elements of trade deals, allowing multinationals to potentially claim compensation when changes in government policy harm their business.
"I think [Trump pulling out of TPP] will give a jolt to globalisation and I don't think it will necessarily be a bad thing," added Dr Dhingra. "The same trade deals would be more justified if they had democratic legitimacy.
"A bigger issue is these are really simple solutions that are being given [by Trump], that 'let's cancel NAFTA, let's cancel TPP and somehow that's going to get things okay in our country'. It's not going to be that simple and that worries me more."
"I think what people are more concerned about now and which for years we didn't pay much attention to is what happens to those distributions of gains from trade, who is the winner and who is the loser.
"In the UK you see wages becoming more unequal. The income support people were getting was enough in the last few years to not lead to an awful distribution of income. But since the last six or seven years, that's changed.
"Yes globalisation does have these really equalising forces but it's the responsibility of the government to essentially compensate the losers, if it wants to go ahead with that sort [free trade] of programme."
Billy Melo Araujo, a lecturer in EU law at Queen's University Belfast, writing on theconversation.com, said: "Not everyone has evenly benefited from free trade and economic liberalisation. And so there are growing calls to manage the effects of globalisation.
"Some have called for the development of policies which would redistribute its costs by re-investing in areas which have lost out from globalisation. Others have advocated a shift in emphasis of trade agreements away from economic liberalisation and towards issues such as labour and environmental protection.
"Of course, Trump does not propose to go that far. There is no sign of reforming the fundamentals of the international trading regime. Trump's promise is far more basic. It is one based on a retreat from free trade with, perhaps, a dash of old-fashioned economic isolationism. That being so, Trump discarding the TPP in the short to medium-term is a fairly safe bet.
"The irony is inescapable. The TPP was designed by the US specifically to counteract its waning influence in Asia and combat the rise of China. The TTIP was espoused as an essential tool to consolidate trade rules that reflect the US's interests and values. And yet the likelihood is that both agreements may eventually be destroyed by a president whose entire sales pitch has been based on reasserting the US's greatness on the global stage."