'Right to be frozen' ruling for UK teenager triggers concern
Comments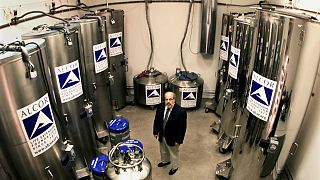 Is it a scientific way of cheating death? Or a 'false hope' fantasy for the vulnerable?
Medical experts are raising serious concerns about cryogenics – the practice of deep-freezing a dead human in the hope a future cure will bring them back to life.
It follows news that a British teenager had won the right for her body to be preserved.
"She was 14, bright, intelligent and articulate," the girl's lawyer Zoe Fleetwood explained.
"She was determined. She knew in detail the process she was seeking to undertake and she persuaded me and she persuaded the court of her maturity and capacity to make such decisions."
Terminally ill with cancer, the girl was supported in her wish by her mother, but not her father. A High Court judge gave her mother the right to decide.
A 14-year-old girl who died of cancer has been cryogenically frozen after a landmark court case.

Here is cryonics explained in 90 seconds: pic.twitter.com/KKQVMHlcqN

— The Telegraph (@Telegraph) 18 novembre 2016
But some fear that preserving a loved one's body in this way could get in the way of the grieving process.
"None of us know what will happen to this girl in 100 years time in terms of the cryogenics and whether or not she can be brought back to life," said British family doctor Ellie Cannon.
"It is almost something out of science fiction. And I think that false hope could be damaging for her mum and her bereavement process because at what point is she going to reach acceptance?"
Scientific backlash after High Court rules teenager can be frozen after death https://t.co/15JHymMi9Cpic.twitter.com/qAZ3Tr3g5a

— Sarah Knapton (@sarahknapton) 18 novembre 2016
The technique is unproven and expensive – raising further fears.
But for those like the unnamed British girl – now deep frozen in America – even the outside hope of a second chance at life is priceless.