Huge protest against South Korean president as influence scandal intensifies
Comments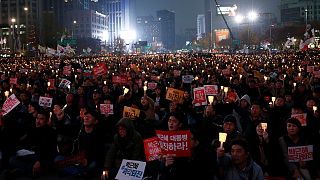 A huge demonstration has been held in the South Korean capital Seoul as people called on the president to resign.
Local media said around 150,000 people took part in the rally, which turned into a vigil protest.
Park Geun-hye has been rocked by a scandal involving a friend alleged to have abused her ties with the president to meddle in state affairs and wield improper influence.
At the same time her supporters gathered outside a main railway station calling on the leader to remain in place.
Conservative groups took part in the rally, accusing local media of reporting false news and distorting facts.
The protests have continued since she apologised on television for the scandal – the suspicion being she allowed a mysterious figure to manipulate power from the shadows.
Prosecutors plan to formally charge Park's friend, Choi Soon-sil, by Sunday and are also seeking to question the president herself in the next few days.
They're also seeking to charge two of the president's former aides who allegedly conspired with her friend.