Hopes and fears as 48-hour ceasefire in Yemen comes into effect
Comments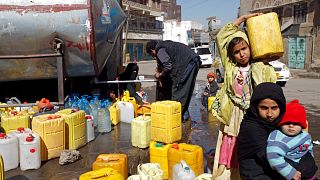 Sana'a market in Yemen as a 48-hour ceasefire comes into effect.
The truce announced by the Saudi-led coalition aims to end 20 months of fighting, in which more than 10,000 people have died.
Six attempts at stopping hostilities have failed, including one in October which fell apart as soon as it came into force.
"I'm not at all optimistic," said one local resident. "There have been several cease-fires which have not been respected and I'm sure this one will not be respected by the opposing sides. In general, during cease-fires both sides (take the opportunity to) prepare themselves to continue the war."
"The ceasefire announced in Yemen offers new hope in a situation that is increasingly catastrophic for children,"
UNICEF
's Executive Director Anthony Lake said in a statement. He highlighted that 1.5m children are suffering from acute malnutrition, and cases of cholera are on the rise.
The Saudi-led coalition said the truce could be extended if the Iran-aligned Houthi rebels agreed to abide by it and allow aid into besieged cities. While the ceasefire largely held, there were reports of fighting continuing in the western city of Taiz, and airstrikes by the coalition reported to the east of Sana'a.