Poland's former president reburied amid new inquiry into fatal 2010 plane crash
Comments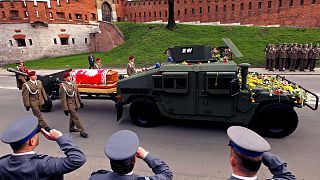 Poland's former President Lech Kaczynski and his wife Maria have been reburied following detailed autopsies as part of a new investigation into their fatal plane crash.
The aircraft they were travelling in came down over Russia in 2010, killing the presidential couple and 94 others.
Initial investigations done separately in both countries found crew errors in bad weather to be the main cause of the crash.
However, identifications and post-mortems carried out in Russia were reportedly flawed.
Followers of Kaczynski's twin brother, Jaroslaw claim an intentional blast brought down the aircraft. They blame Russia, and Poland's former prime minister and current president of the European Union, Donald Tusk.
However, analyst Marek Migalski says Jaroslaw's conservative Law and Justice party is fanning such theories to consolidate the party's electorate.
It's hoped the results of the latest autopsies – which are expected in four months' time – will put an end to speculation once and for all.