Jakarta's Christian governor faces blasphemy probe
Comments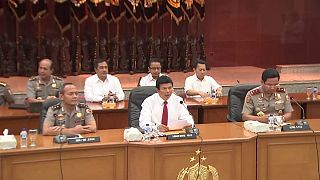 The Christian and ethnic Chinese governor of Jakarta, Indonesia, is to be investigated on allegations of blasphemy.
I'm convinced that I am innocent, it wasn't my intention

Jakarta Governor
Muslim groups claim Basuki Tjahaja Purnama insulted the Koran in a speech in September, when he accused his opponents of using a verse from the holy book to encourage people not to vote for him.
"Even though there was no consensus, the dominant opinion is that this case should be settled in court. The next phase of the investigation will be intensified,"said Ari Dono Sukmanto, Chief of the National Police Criminal Investigation Department.
"Basuki Tjahaja Purnama, alias Ahok, as a suspect, he is not allowed to leave Indonesia."
Purnama denies blasphemy, but has apologised for the comments he made his speech. His Muslim critics have demanded that he resign.
"This is a country with a rule of law, we'll leave it to the legislatures. If I become the suspect, I'll follow the legal proceedings, whether I'm innocent or not, I'll follow the legal procedures," said Basuki Tjahaja Purnama.
"But I'm convinced that I am innocent, it wasn't my intention."
More than 100,000 Muslims marched against the governor earlier this month, calling on voters not to re-elect him in February.
It all comes amid simmering religious and ethnic tensions in the world's largest Muslim-majority nation.