Brexit, Trump and hate crime: what does the data tell us?
Comments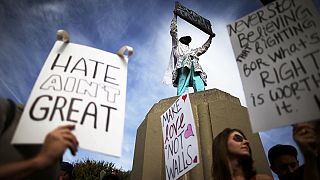 In the week since Donald Trump was elected President, there has been growing concern among many Americans of a rise in hate crimes.
There is plenty of anecdotal evidence to fuel these worries while early, crude data also appears to back up this perception.
Acts of criminal prejudice, or "bias-motivated incidents" as the FBI refers to them, run principally along religious lines (for example the word 'Trump' being written on the door of a Muslim prayer room at New York University), racial lines (the effigy of a black man hanged above an Alabama coffee house) and homophobic lines (the burning of a Gay pride flag in New York state).
Michelle Obama was described as an "ape in heels" by one non-profit group director, who denies the comparison was intended to be racist.
Trump supporters also find themselves on the receiving end of post-election anger and are being physically and verbally attacked because of their own political orientation.
Figure seen hanging from balcony above Tuscaloosa coffee shop has been removed https://t.co/FvoOkD4I0Npic.twitter.com/euUX0TDxHl

—

WBRC

FOX6 News (@WBRCnews) 10 novembre 2016
Text from a dear friend of mine who teaches high school in New Jersey. ("Changing" obviously a typo for "chanting" here.) pic.twitter.com/pZT4HmyVuz

— Damon Beres ✨ (@dlberes) 9 novembre 2016
---
Beyond the anecdotal
That people believe they are witnessing a spike in hate crime seems not simply to have been implanted in their imagination by the Facebook filter bubble phenomenon.
At least two organisations that track such incidents say they have received a spike in incidents reported to them.
The Alabama-based Southern Poverty Law Center told USA Today "Since the election, we've seen a big uptick in incidents of vandalism, threats, intimidation spurred by the rhetoric surrounding Mr. Trump's election."
The SPLC dealt with over 200 hate crime incidents during election week and although this early data makes it difficult to draw concrete conclusions, a spokesman for the Council on American Islamic Relations told the same media a similar story: "It's kind of a very tense time for the American Muslim community and people are really anxious about the future. I would call it a spike but it's too early to quantify," said Ibrahim Hooper.
For more comprehensive data on reported hate crimes in the US, we will have to wait until November next year, when the FBI publishes its statistics for 2016.
The recently published figures for 2015 show that, last year, local law enforcement agencies reported 5,850 criminal incidents involving bias based on race, ethnicity, religion, gender, sexual orientation or disability. That was a 6.7% increase on 2014.
Notably in the report, hate crimes against Muslims shot up by 67% year-on-year, while Jewish Americans remain the religious group that reported most religious hate crimes against them.
Among all types, bias against race and ethnicity was by far the most reported (59.2%) and more than half (52%) of the race hate victims were African-Americans.
And even these figures do not likely show the full picture. The FBI's director James Comey admits "We need to do a better job of tracking and reporting hate crime to fully understand what is happening in our communities and how to stop it."
---
How does that compare with post-Brexit hate crime?
There was a spike, too, in the number of hate crime cases reported in the UK immediately after the referendum decision to leave the EU (Brexit).
In the week after the referendum, the number of reported cases increased by 46% compared to the same week the previous year.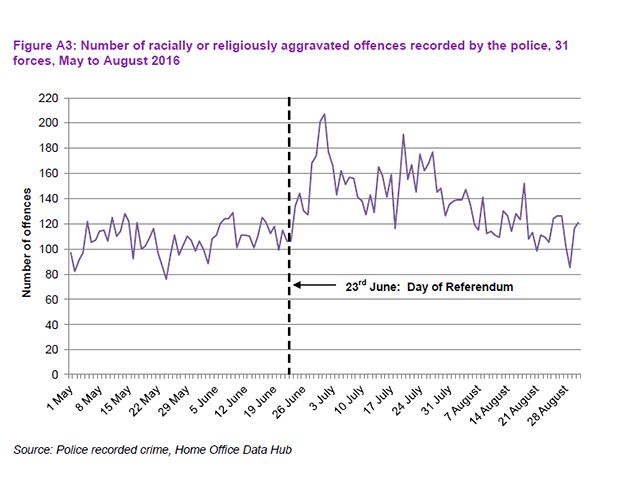 Since then however the number of hate crimes reported to police has dropped, although 2016 figures are higher than previous years.
Can more reported hate crime be a sign of progress?
The UK Home Office reported a total of 62,518 hate crime offences in a one-year period from 2015-16 in England and Wales. That is more than 10 times the number of incidents reported in the USA, a country with more than five times the population of England and Wales.
On the face of it, this suggests that the people of England and Wales are greatly more intolerant than Americans but the data may be misleading; the significant difference in figures can also be put down to the way in which the data is recorded.
Paradoxically, more reported cases of hate crime can also be seen as a sign of progress: generally, in both the US and the UK, hate crimes are under-reported, as victims are not sure whether to report verbal or physical attacks against them to the police, or even how to do so. In the UK, police forces nationwide have been trying to increase public awareness of hate crime.
Therefore seeing more cases reported is evidence that the communication strategy is working. That is the conclusion of one council report for the South Yorkshire Police in Sheffield, which reads: "There has been ongoing work to increase confidence, provide more accessible reporting through online and third party reporting centres and improve crime-recording standards.
"Consequently, there has been an increase in hate crime reported to the force, which is a strong indicator that the actions and engagement undertaken by SYP and nationally, has increased awareness and confidence to report crimes and incidents."
---
In the case of the UK then, yes, there are more reported hate crimes now than in previous years. They did spike after the crucial June 23 Brexit vote before subsiding to a plateau that is nonetheless higher than it was before the vote. On the other hand, the police believe the fact more people feel confident enough to report cases is a sign that things are improving.
In the US, it seems to many people that hate crime has spiked since Trump was elected. But beyond Facebook telling us so, it is too early to say whether that is really the case and whether the trend will follow that of Brexit.