UK inflation slips but Bank of England warns of price rises ahead
Comments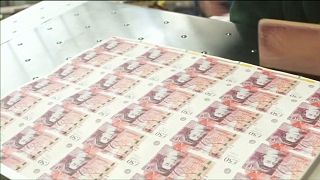 Inflation in Britain slipped slightly in October. It was at 0.9 percent, down from September's 1.0 percent.
But the Bank of England's Governor Mark Carney said that won't last. He warned higher prices are on the way in the UK.
Wages are also expected to grow more slowly than inflation next year. And that means many people are likely to face reduced purchasing power and lower living standards.
The pound is down around 20 percent against the dollar and lower against the euro since Britain's vote in June to leave the European Union and central bank Governor Carney said that is pushing up costs for manufacturers who have to import raw materials.
October saw the biggest rise in import prices in five years and the wholesale prices of goods surged by 2.1 percent.
However Carney said it could take some time for those higher prices to pass through to the public.
Mark Carney warns inflation will go up | https://t.co/4JnPyww8e4#bankofengland#inflation#Brexit

— economia (@economiamag) November 15, 2016
Commenting on today's inflation figures, ONS head of inflation, Mike Prestwood said: pic.twitter.com/Yu4RuuTbYp

—

ONS

(@ONS) November 15, 2016