Harsh words between Germany and Turkey
Comments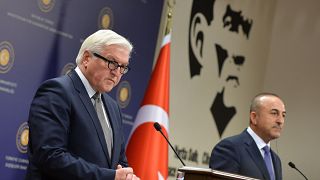 There has been a testy exchange of views between the foreign ministers of Germany and Turkey.
Relations between Ankara and Brussels have been particularly strained since a failed Turkish coup in July.
European leaders worry that Ankara is using the attempted putsch as a pretext to crack down on dissent.
Turkey, meanwhile, has been angered by what it sees as a lack of solidarity.
What did Germany say?
Speaking at a joint press conference in Ankara, Germany's Foreign Minister voiced concern about the mass arrests and treatment of the media since July's attempted coup in Turkey.
Frank-Walter Steinmeier said he was against the EU breaking off accession talks with Turkey, a crucial partner for the bloc in stemming the influx of migrants from the Middle East.
He also added that Germany supports its NATO partner in fighting militant threats.
What did Ankara say?
Turkish Foreign Minister Mevlut Cavusoglu says Turkey is "fed up" with the condescending attitude of the European Union in talks over its application to join the bloc.
His blunt comments reflect growing exasperation in Turkey about EU criticism of its record on human rights.
There is also frustration that, 11 years after starting negotiations, Ankara's prospects of gaining membership look more remote than ever.
Cavusoglu added that the Turkish people would decide whether or not to reinstate the death penalty, a decision that could spell the end of Turkey's accession bid.
What happened in July?
More than 110,000 people have been sacked or suspended in the crackdown that followed the failed military coup.
An estimated 36,000 have been arrested.
Media outlets have also been closed down.
Critical report
The bitter rhetoric from Turkey has increased since the release last week of a highly-critical EU report.
It made it clear Ankara's prospects of joining the 28-member group have become more remote than ever.
Turkey's minister for EU affairs dismissed the report as "far from constructive", while President Tayyip Erdogan urged the EU to take a final decision on Turkey's application.
What they are saying
"I reported the worries that we have about the numerous arrests, mass arrests, and freedom of opinion and freedom of the press," – Frank-Walter Steinmeier, German foreign minister.
"We are truly fed up of these statements degrading Turkey. The criteria are clear but there are double standards and a two-faced approach. This is what we don't like," – Mevlut Cavusoglu, Turkish foreign minister.