Team Trump assembles possible players in the new administration
Comments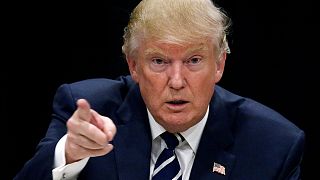 As he made his victory speech the night after the election Donald Trump welcomed on stage and thanked several of the faces we may be getting to know better as key players in the administration of America's 45th president.
Ratfinked#Giuliani#Chaffetz#FBIpic.twitter.com/25lKroRuTAhttps://t.co/MqIqHsyrQa

— Bsnot (@bsnot3) November 5, 2016
One of the most prominent among them is the former mayor of New York Rudy Giuliani, who rose to national prominence after 9-11. He toyed with running for the presidency himself before joining Team Trump, and as a reward for his loyal campaigning he may land the Attorney General's job.
So after they #draintheswamp where is #NewtGingrich going to live? #swampdweller#ThursdayThoughtsnewtgingrich</a> <a href="https://t.co/qF42nfRH4X">pic.twitter.com/qF42nfRH4X</a></p>&mdash; Martin Bullock (UbermartinLFC) November 10, 2016
Veteran Newt Gingrich, the nemesis of the Clintons in the 1990s, is being touted as Secretary of State, while Stephen Hadley, who was National Security Advisor for George W. Bush, is thought to be the pick for Defence Secretary.
You did this, America: #SarahPalin being considered 4 A #Trump Cabinet. https://t.co/T171FqEfpg#p2OMG I Need2Vomit

— Reda StCyr (@StCyrlyMe2) November 10, 2016
One person who needs little introduction is the woman picked as Vice-Presidential running mate during John McCain's failed bid for the White House in 2008. Tea partier-in-chief Sarah Palin may become Secretary of the Interior.
#DeathOfScience in America. Now I hear that #DonaldTrump plans to put #BenCarson in charge of education. New Kreationist textbooks coming! pic.twitter.com/4fBIMP0CxH

— John Moffitt (@JohnRMoffitt) November 11, 2016
Former rival to Donald Trump in the Republican race Ben Carson has been suggested as Education Secretary, but he is a creationist who denies the concept of evolution, which may compromise his chances of getting the job.
Before joining the Trump campaign, Steve Bannon ran the new vast right-wing conspiracy https://t.co/n62oXQsDKTpic.twitter.com/MVbCyS8IQX

— Bloomberg Politics (@bpolitics) August 27, 2016
However by far the most controversial figure is a man who already been named to the key position of Head of Strategy in the White House, the former banker and ultra-right conspiracy theorist behind Breitbart digital media, Stephen Bannon, who has given platforms to various extremist white nationalist and anti-semitic groups.