Donald Trump outlines migrant deportation and Mexico wall plan
Comments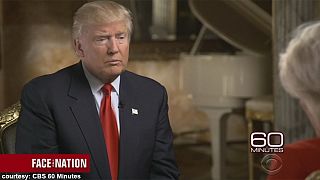 Donald Trump has vowed to deport or jail up to three million illegal immigrants soon after taking office.
We are going to get the people that have criminal records, gang members, drug dealers

US President-elect
The US president-elect also told the CBS programme 60 Minutes that some parts of his proposed border wall with Mexico could be "fencing".
His comments – described by some as a partial climbdown on campaign promises – came as he fleshed out details on his deportation plans.
"What we are going to do is get the people that are criminal and have criminal records, gang members, drug dealers, where a lot of these people, probably two million, it could be even three million, we are getting them out of our country or we are going to incarcerate. But we're getting them out of our country, they're here illegally," Trump told viewers.
During the presidential election campaign Trump said he would deport the estimated 11 million undocumented migrants, most of whom are Hispanic.
The Republicans have control of Congress but one senior figure has said border security is a higher priority.
House Speaker Paul Ryan told CNN that there were no plans for a "deportation force". He sought to reassure Americans about the impending Trump presidency, describing the country as "pluralistic and inclusive".
The president-elect gave more details of his promise to build a wall on the US-Mexican border – a centrepiece of his campaign.
He said that in "certain areas" he would accept fencing instead of a wall. "But certain areas, a wall is more appropriate. I'm very good at this, it's called construction, there could be some fencing," he added.
Trump takes over at the White House in January.