South Korean president to face prosecutors in political scandal probe
Comments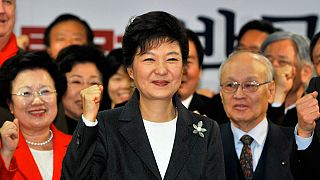 South Korean prosecutors are to question President Park Guen-hye as part of a probe into the political scandal swamping her tenure.
#Seoul#protesters#rant against #SouthKorean president #ParkGuen-Hye demanding her #resignationhttps://t.co/FMFAx17Nei

— India Live Today (@inlivetoday) November 12, 2016
Her presidency has been rocked by the suspicion that she let a longtime confidante manipulate power from behind the scenes.
In a televised apology last week the president said she would accept a direct investigation into her actions.
It will be the first time a sitting president has been questioned by prosecutors.
The prosecution office also said the chairman of Hyundai Motor Company has been questioned over whether Park or anyone involved in the influence-peddling scandal put improper pressure on corporate bosses to raise funds for charitable foundations at the centre of the case.
Tonight, a little while ago, Gwanghwamoon, Seoul, where estimated million gathered, shouting Impeach Park Guen-hye. pic.twitter.com/spnWhOkeI1

— Suki Kim (@sukisworld) November 12, 2016
On Saturday up to one million people took to the streets of Seoul to call for her resignation.