Powerful earthquake hits New Zealand
Comments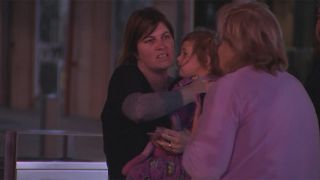 The authorities in New Zealand have confirmed there have been casualties in the powerful earthquake that struck the South Island around 90 kilometres north of Christchurch.
Prime Minister John Key has said two people were killed. Shortly earlier the police spoke of one victim.
A tsunami warning has been issued by the country's Ministry of Civil Defence and Emergency Management. It has warned of the risk of destructive waves along the entire east coast, calling on people to move inland and find higher ground.
The magnitude of the tremor, which struck just after midnight local time and was felt across a large area, has been upgraded from 7.4 to 7.8 by the US Geological Survey.
There have been some reports of injuries. Power was knocked out in some areas and people rushed out into the streets.
A series of aftershocks were recorded around the country, some as strong as 6.1 magnitude.
Officials in Cheviot, a coastal town near the quake's epicentre, are said to have been evacuating residents. Residents in Wellington said glass had fallen from buildings into the streets, and hotels and apartment buildings had been evacuated. The city council has reported structural damage to several buildings.
Christchurch was devastated by a 6.3 earthquake in 2011 that left 185 people dead and damaged the city centre.
The tsunami threat is for the entire NZ coastline. Stay off beaches. First waves have arrived but may not be the largest. pic.twitter.com/dVLM2w5Pxy

—

MCDEM

(@NZcivildefence) November 13, 2016
situation has changed – tsunami is possible. People near the coast in the south island should move to high ground or inlande #eqnzpic.twitter.com/1×2tSTubGO

—

MCDEM

(@NZcivildefence) November 13, 2016
Nati Sánchez, a Spanish resident in Christchurch, witnessed the latest quake and told Euronews:
"The truth is that here you learn a little to live with the earth trembling from time to time. But it is true that this time it has been…(huge). We were asleep. Here it was midnight and of course you wake up because you start to notice that obviously everything is moving, furiously: the doors begin to open and close, the mirrors begin to shake with the walls. It is impressive because it was very long. As I said, most days you notice movements but they're very small, no more than two on the scale. We are all a bit addicted to earthquake applications to see if what you feel is your body, or if the earth is really shaking … But this time it went on for a long time".