Casualties confirmed in New Zealand earthquake
Comments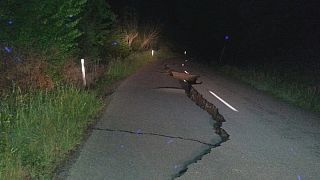 The authorities in New Zealand have confirmed there have been casualties in the powerful earthquake that struck the South Island around 90 kilometres north of Christchurch.
We urge people to continue to be cautious

New Zealand Prime Minister
Prime Minister John Key has said two people were killed. Police said one of the victims was found in a house in the coastal tourist town of Kaikoura, near the quake's epicentre.
The region that bore the brunt of the 7.8 magnitude tremor was north of Christchurch on the South Island, where there were reports of injuries and collapsed buildings.
It generated a tsunami: the Ministry of Civil Defence and Emergency Management warned of the risk of destructive waves along the entire east coast, warning people to move to higher ground.
Main arterial route in #NewZealand State Highway 1 completely covered by slip following #earthquake#eqnz stay off the roads and be safe. pic.twitter.com/m41hTNtG0m

— Niels Meinderts (@NielsMderts) November 13, 2016
At a specially-convened news conference the prime minister said:
"We now know that those around the country that tsunami risk has been downgraded to coastal warnings. But we also urge people to continue to be cautious".
John Key added that a military helicopter was being dispatched to Kaikoura. Social media saw many appeals for news of people in the town.
A series of aftershocks were recorded around the country, some as strong as 6.1 magnitude.
A look at where the quakes have struck this morning across the country #EQNZpic.twitter.com/BrwIYP47jq

— nzherald (@nzherald) November 13, 2016
Officials in Cheviot, a coastal town near the quake's epicentre, evacuated residents. In Wellington glass fell from buildings into the streets, and hotels and apartment buildings were evacuated. The city council reported structural damage to several buildings.
Huge slip blocking 100 metres of Inland Kaikoura Road, north of Cheviot. Completely impassable #eqnzpic.twitter.com/BX581HaQCu

— Thomas Mead (@ThomasMeadia) November 13, 2016
Christchurch was devastated by a 6.3 earthquake in 2011 that left 185 people dead and damaged the city centre.
New Zealand lies in the earthquake-prone "Ring of Fire" region that partly encircles the Pacific Ocean, where most of the world's earthquakes occur.
Latest media release from the Ministry of Civil Defence & Emergency Management #eqnzpic.twitter.com/3DuHEVEIev

—

MCDEM

(@NZcivildefence) November 13, 2016