Three-way battle for Vendee Globe lead
Comments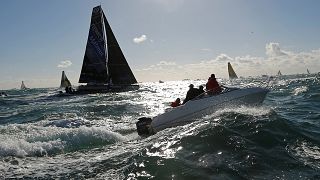 Vincent Riou, fellow Frenchman Armel Le Cleac'h and Britain's Alex Thompson have embarked upon a ding dong battle at the head of the Vendee Glove fleet.
Banque Populaire skipper Le Cleac'h took full advantage of the North Easterly Trade winds south west of the Canary Islands to get his nose slightly in front.
But PRB's Riou, who is the only skipper in the fleet to have previously won the race back in 2004, and Thomspon are snapping at the heels of Le Cleac'h as the trio continue to set the pace in the eighth edition of the solo round the world race.
Hugo boss skipper Thompson lost miles due to a strategic error the day before but he has been the quickest sailor overnight and clawed his way back into early contention.
As of Saturday afternoon only 36 nautical miles separated the leading trio while a mere 68 nautical miles separates the top seven boats as they begin their journey past Cape Verde.
Bringing up the rear of the 29-strong fleet is Spaniard Didac Costa who suffered problems on day one and had to return to Sables d'Olonne for repairs before setting off again three days later.