Taliban launch fatal bomb attack on Bagram air base
Comments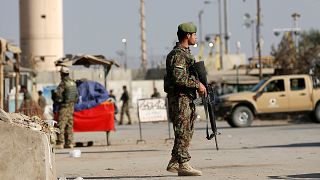 The Taliban has claimed responsibility for a fatal bomb blast at the NATO air base at Bagram, north of the Afghan capital Kabul.
Four killed, 14 injured in explosion at Bagram air base, Taliban claims responsibility https://t.co/jpAP0tl4j8pic.twitter.com/5Idy3sCg73

— 92 News HD (@92_News1) November 12, 2016
Authorities say four people have been killed and more than a dozen injured.
The bomber detonated a device close to a sports facility where officers and soldiers were exercising.
Taliban bombs Bagram air base, fatalities reported NEWS >> https://t.co/KVqmgUmlE0#news#post#presspic.twitter.com/UkSKRQHAg5

— TubeNews en (@tubenewsen) November 12, 2016
Authorities say it is unclear if a suicide bomber carried out the attack.
An investigation is underway as to uncover how the base, home to around 14,000 people, had its security compromised.