Running all the way to the Presidency - Euronews speaks with long-distance great Gebrselassie
Comments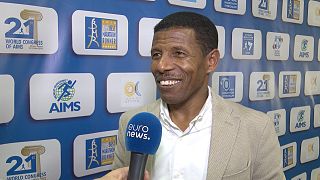 Former Olympic and World champion Haile Gebrselassie has swapped his running kit for a suit and tie after the long-distance legend was elected president of the Ethiopian Athletics Federation last weekend for a four year term.
This week the 43-year old met up with Euronews' Ioannis Karagiorgas to discuss his new role and his trouble-hit sport.
Euronews: ''What are your principle objectives now you are in office?''
Gebrselassie: "My top priorities as a president of the Ethiopian athletics federation are a lot. One of the top priorities is to organize the office, the athletics federation office and to provide and prepare whatever is important for the athletes. My main goal is to focus on the athletes".
Euronews: ''Doping is for many years a big problem for sports in general and athletics of course. This year, at the Olympics in Rio de Janeiro, the Russian team was excluded from athletics. Do you think it was the right decision?''
Gebrselassie:"One thing I want to say is that when you decide this kind of decision you have to be careful, there is also innocent athletes at the Russian athletics. And we have to find out, there are many calls (meaning to find all the innocent people). And of course the athlete that takes doping, I agree to punish that athlete not the mass. This kind of decision is a little bit hard for athletes who are sweating day and night".
Euronews: ''During the Rio Olympics your compatriot, Feyisa Lilesa, made a symbolic gesture supporting the Oromo people who are suffering in Ethiopia (claiming violations of human and civil rights). The fact is that you also come from the Oromo region. What is your opinion on the matter.''
Gebrselassie: "One thing I want to tell you is I am a sportsman. I am doing all in sport. You know what sport means. Its without politics, without religion, without ethnic or anything. If you ask me this question when I become a politician I will answer in a proper way. But now I can not answer. I am doing sport and If someone asks me to comment, which way can I comment? I know that I am just an Ethiopian, I do for Ethiopia. It doesn't matter where they come from, I want to serve everybody."
Euronews: ''Many people say and even you have hinted that you may run for the Ethiopian Presidency, and may be in politics. Are you planning to do so? Do you want to do it."
Gebrselassie: "As I serve as President of the Athletics federation, to talk about to run and become a president of Ethiopia it's a clash (conflict of interests). This is sport the other is politics. Let me finish this one. You will know the answer in four years time. Right now I am doing all for sport. I am going to serve for all people. (It) doesn't matter if it's opposition, government, no matter."
Euronews: ''What about Mo Farah, who can beat him and how?''
Gebrselassie: "This guy is really, really strong and for 4-5 years no one showed up from both sides, meaning from Kenya and Ethiopia. But we will see."
Euronews: ''Bekele or Gebreselassie, who is the best?''
Gebrselassie: "What do you think? Both of us are really good. I don't say (Kenenisa) Bekele, I don't say myself. Because you know, he was good in his time, I was good in my time. And now there are athletes like Mo Farah. But for all of us it's just Abebe Bekila! He is the one we respect a lot."
Congratulations my friend HaileGebr</a>. Looking forward to working with you. <a href="https://t.co/3cvyx16BKQ">https://t.co/3cvyx16BKQ</a></p>&mdash; Seb Coe (sebcoe) November 6, 2016
I feel so honoured to be elected president of the Ethiopian Athletics Federation! Will work on a great future for Ethiopian athletics!

— Haile Gebrselassie (@HaileGebr) November 5, 2016
Big congrats to my friend hailegebr</a> who was elected today as President of the EAF. - <a href="https://t.co/ociSooKMQF">https://t.co/ociSooKMQF</a></p>&mdash; Wilson Kipsang (Kipsang_2_03_23) November 5, 2016