'Mr Brexit' – what a Trump presidency means for the UK
Comments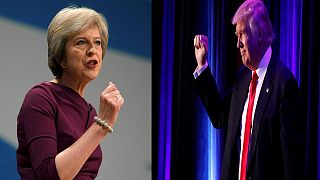 UK government
British Prime Minister Theresa May used her official social media accounts to issue a brief, measured statement congratulating Trump on his victory:
I would like to congratulate Donald Trump on being elected the next President of the United States. Full statement: https://t.co/7W2feuodUE

— Theresa May (@theresa_may) November 9, 2016
I would like to congratulate Donald Trump on being elected the next President of the United States, following a hard-fought campaign.
Britain and the United States have an enduring and special relationship based on the values of freedom, democracy and enterprise.
We are, and will remain, strong and close partners on trade, security and defence.
I look forward to working with President-elect Donald Trump, building on these ties to ensure the security and prosperity of our nations in the years ahead."
May's Foreign Secretary Boris Johnson took a similar tone, although he went a little further, saying he was "confident" in the future of the US-UK relationship.
I believe passionately in the importance of the UK – US relationship and am confident we can take it forward together

— Boris Johnson (@BorisJohnson) November 9, 2016
Yet Trump is far from beloved of the British establishment. Westminster is awash with people who are sceptical, nervous and baffled by a Trump presidency.
Just nine months ago British MPs were debating a petition on banning Trump from entering the UK for hate speech.
Former British Prime Minister David Cameron called Trump "dangerous" and branded his proposal to ban all Muslims from the US "stupid, divisive and wrong." May also criticised the proposed policy.
---
'Brexit plus, plus, plus'
Throughout his presidential campaign, Trump drew parallels between the UK's Brexit vote and his bid for the White House.
He called himself "Mr. Brexit," and painted the UK's referendum result as a trailblazing moment in a global revolution to take on the political elite and galvanise "forgotten" voters.
A huge mural of Donald Trump and Boris Johnson kissing has appeared in Bristolhttps://t.co/4DVPs4EFMW

— The Independent (@Independent) May 24, 2016
A day before the US presidential election, Trump declared that if he won the vote, thus overthrowing the American political establishment, it would be "Brexit, plus, plus, plus."
He has found an ardent admirer and vocal advocate in UK Independence Party (UKIP) leader Nigel Farage.
I hand over the mantle to RealDonaldTrump</a>! Many congratulations. You have fought a brave campaign. <a href="https://t.co/txD3RFMQ2l">pic.twitter.com/txD3RFMQ2l</a></p>— Nigel Farage (Nigel_Farage) November 9, 2016
---
So 'special'
The so-called 'special relationship' between the US and the UK, a phrase first coined by British Prime Minister Winston Churchill in 1946, has for decades been one of the key defining aspects of the UK's foreign policy and its position on the global stage.
British government officials and civil servants are now waiting to see what Trump, who has never held political office before, will do in his first 100 days – and beyond. The presidential campaign did not provide clear indications on the specifics of Trump's policy plans in many areas, nor did it provide much information on the team he plans to build or how diplomatic affairs will be conducted.
Yet, some of the foreign policy proposals made during the campaign startled much of the West, the UK included. Trump suggested that NATO countries which do not pay their dues into the alliance could lose US protection in the event of an invasion – compromising NATO's "collective defence principle" (an attack on one is an attack on all).
---
Security and defence
Trump has described his foreign policy position as "Americanism, not globalism", but critics have been alarmed by what they perceive as isolationism, aggression, and a propensity towards closer alliance with Russia.
TODAY WE MAKEAMERICAGREATAGAIN!

— Donald J. Trump (@realDonaldTrump) November 8, 2016
Hans Pung, Europe President of public policy research organisation
RAND, told euronews: "While Donald Trump's election last night will come as a surprise to most observers, it is unlikely to have an immediate effect on UK defence and security policy. The two nations will continue to work closely together on intelligence sharing and diplomatically to resolve the humanitarian crisis in Syria."
On the issues raised by the President-elect over NATO, Pung added: "A Trump administration will almost certainly look to address issues of European security primarily through NATO, although there will big questions about appropriate levels of burden-sharing and the will of European governments to meet their 2 percent GDP spending obligations on defence."
---
Economy and trade
The President-elect's economic policies are yet to be spelled out, although he has criticised some free trade deals signed by the US and pledged repeatedly to "make America great again."
However, Trump has said that trade with the UK is a priority. US President Barack Obama famously said, before the Brexit vote, that if the UK left the EU it would end up at the "back of the queue" in trade talks with the US.
Yet, the President-elect said that under a Trump presidency, the UK would always be "treated fantastically well" – whether the country was in the EU or not.
For the British pound, which has plummeted in value since the Brexit vote, the Trump victory might, some market analysts believe, provide some respite – if the US dollar takes a tumble.
"Now the dollar and the pound are two highly charged political risk currencies," CMC markets chief market analyst Michael Hewson told Reuters.
"There's a lot of political risk surrounding both of them, so obviously any weakness the dollar will have is mitigated by Brexit."
So the UK will not be at the back of the queue for a US/UK trade deal…

— Lord Ashcroft (@LordAshcroft) November 9, 2016
---
Trump is an unknown to governments around the world, and the UK is no exception.
So, although Brexit Britain may be set to secure a decent position in Trump's queue – where that queue is heading is, as yet, far from clear.