US: Barack Obama - the legacy of first African-American president
Comments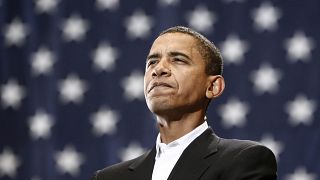 It was in 2008 that Barack Obama became the first African-American to win the White House.
His victory was a turning point in the US' tumultuous history of race relations.
So, eight years later, after securing two presidential terms, what legacy will Obama leave behind?
Domestic policy
During Obama's presidency, the number of Americans without health insurance has hit historic lows.
Millions of people, previously uninsured, have gained access to the health system for the first time.
But the so-called "Obamacare" programme has remained deeply divisive.
From early on, Obama faced an economic crisis. Unemployment hit 10.3 percent in 2009. It now stands at five percent. Obama also helped to revive a struggling car industry.
He has won praise from economists, but many Americans haven't felt the benefits of the upturn.
Obama spent a lot of time trying to curb gun violence, especially mass shootings – but measures have been largely ineffective.
On race, some critics say he could have done more to help African-Americans, while others believe he showed leadership by making race a key topic of political dialogue.
Foreign policy
On the international stage, Obama's legacy looks mixed.
He found out he had won the Nobel Peace prize, barely nine months into his first term. It coming as he planned to send US troops into battle in Afghanistan.
A legacy-defining achievement was the sealing of the historic nuclear pact with Iran – a massive foreign policy gamble for Obama.
"The United States together with our international partners, has achieved that something decades of animosity has not," Obama declared.
There has also been the restoration of diplomatic ties with communist Cuba – ending more than five decades of hostility. The US has reopened its embassy in Havana.
The killing of al-Qaeda leader Osama bin Laden in 2011 was highly symbolic. His death – coming during a firefight with US forces in Pakistan – ended the manhunt for the mastermind of the September 11 attacks. "Justice has been done" Obama declared.
His withdrawal of troops from Iraq in 2011 came in for criticism, with some opponents saying it allowed the so-called Islamic State to gain ground.
And on Afghanistan, Obama slowed down his withdrawal of US troops, citing security challenges.
The five-and-a-half-year Syrian civil war has continued to rage during Obama's presidency. At least 300-thousand people now killed.
Some top officials have called for more forceful action from the US. And, amid the internal debates over Syria, relations with Russia have deteriorated.
So, as Obama prepares to leave the White House in the new year, it seems he will leave a chequered presidency behind him.