Solo, non-stop and without assistance - Vendee Globe skippers ready to set sail
Comments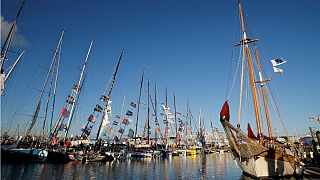 Competitors of the Vendee Globe are ready to set sail for the eighth edition of the non-stop solo round the world race on Sunday.
Without assistance, the 29 skippers will embark on a 24,000 nautical mile race starting and finishing in the French port of Les Sables d'Olonne.
They will sail west to east via the three major capes of Good Hope, Leeuwin and the Horn.
Among the challenges that lay ahead is a long slide down the Atlantic, the perilous voyage across the Southern Ocean with firstly the Indian Ocean, then the Pacific Ocean before heading back up the Atlantic to the finish line.
The skippers will be out at sea for about three months and it requires huge physical resources.
Some hit the gym, others the swimming pool and some participate in triathlons in order to be properly prepared physically, although most insist the best way to prepare for this gruelling race is to sail, and then sail again.
The single-handed yachtsmen will be sailing in 60-foot monohulls and the major change to this year's boats is that they are equipped with foils which lift the hull to reduce drag and enhance performance.
So much so, François Gabart's 2013 record of 78 days 2hrs 16m 40 secs is likely to be left in the wake of the winner of this edition – although nothing is a given in arguably sailing's most extreme and dangerous challenge – also known as the Everest of the seas.