Turkey: ISIL claims responsibility for deadly car bomb attack in Diyarbakir
Comments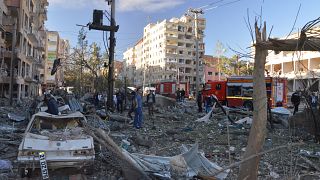 A car bomb has rocked the southeastern Turkish city of Diyarbakir, reportedly killing at least eight people and wounding more than 100 others.
ISIL later claimed responsibility for the attack via its Amaq news agency. Turkish officials initially pointed the finger at the outlawed PKK (Kurdistan Workers' Party).
The attack came just hours after police detained politicians of the mostly Kurdish region's biggest party, the HDP.
It happened near a police station, where some of them were believed to be held.
The explosion tore off the facades of buildings and firefighters were searching debris for people trapped.
PKK

militants blamed

Prime Minister Binali Yildirim told the media that a suspected member of the outlawed PKK also died.

The governor's office in Diyarbakir initially said militants from the Kurdistan Workers' Party, or PKK, were believed to be behind the attack.
#BREAKING ☇
There is a big car bomb explosion in #Diyarbakir#Turkeypic.twitter.com/RfXYEpjYMm

— MirlivaMKA (@MirlivaMKA) 4 November 2016
HDP

raids

Police raided the homes and detained the joint leaders of the Peoples' Democratic Party (HDP), the second biggest opposition party in the national parliament, and nine other HDP lawmakers early on Friday – after they reportedly refused to give testimony for alleged crimes linked to "terrorist propaganda."

President Tayyip Erdogan and the ruling AK Party accuse the HDP of links to the PKK, which is deemed a terrorist organisation by the US and the EU. The HDP denies any direct links.
#HDP co-chairs #Demirtaş and #Yüksekdağ detained by house raids along with several other MPs.

—

HDP

English (@HDPenglish) 3 November 2016
State of emergency
Turkey's been in a state of emergency since a failed coup in July. More than 110,000 civil servants, soldiers, police, judges, journalists and other officials have been suspended or detained in a subsequent purge.
The authorities have also used the emergency powers to round up pro-Kurdish opposition politicians, including Diyabakir's joint mayors, who were detained last month. All major Kurdish media outlets have also been closed.
Turkey's gendarmerie – the latest target as post-coup purge continues https://t.co/b5hhAdRjqCpic.twitter.com/0mMFZsTkKI

— euronews (@euronews) 3 November 2016