Greece: migrant babies in limbo
Comments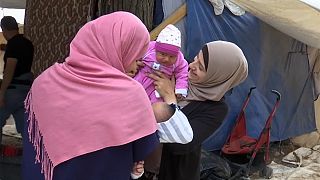 With Europe's migrant crisis having sparked a shutdown of borders, thousands of people fleeing conflict and poverty have been left stranded in Greece.
Among them, women who arrived pregnant and who have now given birth on Greek soil.
The families are waiting for the slow wheels of bureaucracy to turn and, for the babies, their official status hangs in the balance.
The law is complex around citizenship rights, but babies born to migrant families in Greece do not automatically become Greek, they don't become Greek citizens.
Part of the country's legislation states that citizenship can be applied for once a child has started primary school.
But the parents also have to fulfil residency requirements.
Among them, at least one of the parents has to have been living in Greece for at least five years before a baby is born, if the child is to be considered for citizenship rights.
If a baby arrives sooner, a parent will have to be resident for at least 10 years.
The Ritsona refugee camp, around 70 kilometres north of Athens, is home to months-old babies. There are nearly 600 people at the camp, almost all Syrian families.
Among them is Hanan Halawa, a mother of four, whose latest arrival – Ahmad – came in June, in the nearby town of Halkida.
"This life is very difficult, but in Syria it's also difficult. I ran away from that war. Only I want to go out from the war to (a) safe place. Only. I don't want. Only this. Because when I'm pregnant, I ran away," she said.
For many of the stranded families though, Greece lies at the wrong end of the continent – separated from its prosperous heartland by high fences, razor wire and border checks.
Hala Baroud, who also gave birth in Greece, says she just wants the best for her daughter.
"In Syria you couldn't bring everything. I hope when she grows up her studies and education, it will be good. That's like all mothers. I hope nothing will be missing from her life," said Baroud.