Venezuelan president meets with opposition leaders amid political crisis
Comments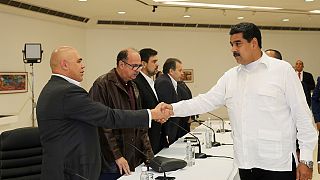 Venezuela's embattled leader Nicolas Maduro shakes hands with opposition leaders.
It is the first time this year that the two opposing sides have sat down together to find a solution to the political crisis.
The Democratic Unity coalition has led mass protests after authorities suspended the vote to recall the socialist president.Some in the opposition expressed fears the Vatican-mediated talks were an attempt by Maduro to buy time.
The Pope's special envoy Archbishop Claudio Maria Celli appeared to respond to criticism calling for solid outcomes, saying, "The Pope is closely following the complex situation of this beloved country, and is deeply concerned about the tensions, and his desire is to encourage the successful realisation of this process."
Talking points
The opposition wants a referendum on Maduro's leadership as well as the release of political prisoners. In a statement they said we "demand an end to the repression and persecution of democrats and the people, and will walk away from the dialogue if the demands are not resolved in the short term."
They deemed the talks as an 'exploratory meeting'.
"There is no alternative to dialogue and meeting in search of the nation's common interests," Maduro said during the opening of the talks which was broadcast live across the country. He said the suspension of the recall referendum was the decision of the judicial and electoral authorities, based on allegations of fraud.
To trigger a recall referendum the opposition had to collect four million signatures in each of the country's 24 states. Regional courts reported fraud in the first round in June in at least four states.
The timing of the decision is important, as polls indicated that the vote to recall Maduro this year would have led to presidential elections which the opposition would have won.
It comes amidst a sharp economic downturn which sees regular shortages of foodstuffs and medicine as well as power cuts, something the opposition blames on the government.
Useful hashtags
#vzlanoquieredialogo (Venezuela doesn't want dialogue) #DialogoSiGolpeNo (Yes to dialogue, No to Coup)