Vast wealth declared by Ukraine politicians causes shock and anger
Comments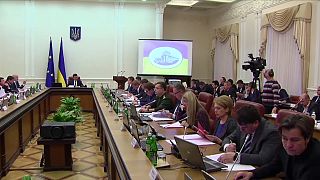 There has been an angry reaction in Ukraine to revelations that many politicians are even more staggeringly wealthy than had been suspected.
The majority of these people are still there to make money

Ukraine's Anti-Corruption Centre
They are among tens of thousands of officials and public servants who have been obliged to declare their incomes and assets in a public database for the first time. The deadline was late on Sunday.
The results show that some politicians have millions of dollars in cash; others own luxury cars, Swiss watches, diamond jewellery, fur coats, and large amounts of land.
"We did not expect that this would be such a widespread phenomenon among state officials. I can't imagine there is a European politician who invests money in a wine collection where one bottle costs over 10,000 dollars," said Vitaliy Shabunin, the head of the non-governmental Anti-Corruption Action Centre.
Many senior politicians filed their forms close to the weekend deadline, resulting in an unleashing of surprise and anger on social media.
The obligation to declare assets online comes under a drive – backed by the International Monetary Fund – to boost transparency, prevent officials from amassing vast amounts of wealth through corruption, and modernise the country's economy.
Thrilled to see Ukraine's e-declaration system is working – a welcome demonstration of #Ukraine's commitment to tackle #corruptionyarko</a></p>&mdash; Adam Nathan (eubetter) October 31, 2016
Olexandra Ustinova of the anti-corruption centre explained what the changes meant, compared to the situation beforehand.
"They did not have to declare cash, they did not to declare expensive watches, expensive cars, expensive property and now they have to declare all of this," she said. "So far what I can see is already a kind of new revolution for Ukraine, because when we see our MPs declaring 35 million (hryvnias – about 1,400 dollars) in cash in presents, you already realise that this is the bribes, or that this can be a bribe or illegal money and this has to be checked."
"Basically, we had hundreds of people die on Maidan for the new people to be elected and to come to power," she went on. "And basically looking now on the new declarations you realise that these people are not new. The majority of these people are still there to make money."
#Ukraine Poll: Frustration w/ government on issues such as corruption & economy benefits populist political parties https://t.co/ZfaipoROd0pic.twitter.com/V9FmWXmNYX

— Center for Insights (@IRI_Polls) October 31, 2016
The Prime Minister Voldymyr Groysman revealed that he and his wife had a total of 1.2 million dollars and 460,000 euros in cash, and a collection of luxury watches.
President Petro Poroshenko filed his declaration close to the deadline, revealing 26.3 million dollars in bank accounts, and holding ownership of 104 companies and charity funds. The business fortune of the former "chocolate king" has been estimated at many times that figure.
The database shows that many top earners prefer to keep much of their money out of Ukraine's banking system.
Some politicians complained of technical problems which prevented them from logging on to the system, or said that data they entered then got lost.
"I spat, I swore, I nearly smashed the computer," one said.
The United Nations Development Programme (UNDP) says the declarations are a first step to reform.
"Ukraine has decided to take these very important steps and sometimes that can lead indeed to questions being asked, court cases to be done. But of course it is the Ukrainian authorities who will decide what are those next steps. I believe the international community including UN will be behind Ukraine in these next steps," said Jan Thomas Hiemstra, Country Director of UNDP Ukraine.
In a country where the average salary is around 200 euros per month, the revelations exposing a huge difference in their earnings compared to the fortunes of others, may further dent public confidence in politicians.