Bank of England governor Mark Carney to stay until June 2019
Comments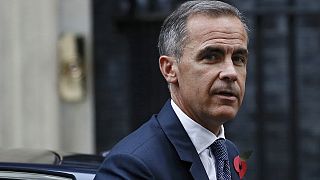 Bank of England Governor Mark Carney has said he has decided to stay in charge of the UK's central bank for an extra year – until the end of June 2019 – to help smooth Britain's departure from the European Union.
That followed much speculation in the British media that he might quit when his current five-year term was due to end in June 2018 – right in the middle of the Brexit process.
But he opted against serving the full eight years available to him, which would have taken his term through to 2021.
Mark Carney and Philip Hammond's exchange of letters as BoE governor decide to stay until 2019 https://t.co/o2MXzxP1sdpic.twitter.com/Ea8Fzvu1iO

— Graeme Wearden (@graemewearden) October 31, 2016
His leaving in 2018 would not have been be a good thing according to Jeremy Stretch, Head of FX Strategy at CIBC: "I think if we take the assumption that Mr Carney was perceived to be one of the few adults in the room, if we can use that phrase, in the immediate aftermath of the Brexit vote back in June, speculation about his future doesn't add anything to the backdrop. So the speculation I think was just another layer of uncertainty for a post-Brexit Britain to consider."
Earlier Prime Minister Theresa May's spokeswoman had said the prime minister was "clear in her support for the Governor" just hours before he had a regularly scheduled meeting with her on Monday.
"It is clearly a decision for him, but the PM would certainly be supportive of him going on beyond his five years," the spokeswoman added. "The PM has always had a good working relationship with the Governor of the Bank of England and intends to continue that."
Governor of the Bank of England Mark Carney arrives at Downing Street to meet the Prime Minister pic.twitter.com/JuqZKBwzyq

— Catherine Wyatt (@catherinehwyatt) October 31, 2016
The pound, which has slumped around 20 percent since the Brexit vote on worries about Britain's economic prospects, rose after Carney's announcement.
Stimulus guidance on Thursday
On Thursday Carney is due to hold a news conference to announce the UK latest inflation figures and whether the Bank could unleash more stimulus.
Jeremy Stretch does not believe that is likely: "I think the Bank of England will hold fire this week but I think it is still very much the case that the bank remains mindful of the need to inject further stimulus probably into the early stages of Q1 2017."
Carney's warnings about the economic risks of Britain leaving the European Union had upset Brexit supporters before the referendum.
[WSJ] RT PaulHannon29: Bank of England's Mark Carney faces backlash from Brexit backers https://t.co/hVlDPgzIdc via WSJ

—

ECON

(@ECON_cl) October 31, 2016
Prime Minister May also took the unusual step of criticising the Bank of England over the effects of low interest rates at her party's annual conference in early October, prompting push-back from Carney who said he would not be told how to do his job by politicians.
Carney has said recently his decision whether to stay would be based on personal rather than political considerations.
What Carney said
"I would be honoured to extend my time of service as Governor for an additional year to the end of June 2019," Carney said in a letter to finance minister Philip Hammond which was published by the BoE.
"By taking my term in office beyond the expected period of the Article 50 process (for Britain to leave the EU), this should help contribute to securing an orderly transition to the UK's new relationship with Europe."