Rare protests continue in Morocco over death of fishmonger
Comments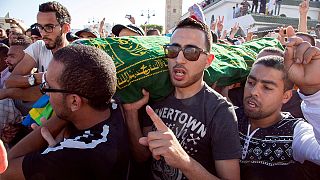 Protests continue in Morocco over the death of a fishmonger who was crushed in a garbage truck as he attempted to retrieve fish confiscated by the police.
Amid rare demonstrations over claims of police abuse and injustice, authorities are promising an investigation into the death in the north of the country on Friday.
Moroccan fish vendor's death sparks protests against police, Arab Spring comparisons https://t.co/VibFhzzoe6

—

TIME

(@TIME) October 31, 2016
One protester in Rabat, Nouzha Nemrouni, told reporters: "I came here to express my support for the man who's been murdered and solidarity with all Moroccans.
"What happened to Mouhcine Fikri can happen and already happens to anyone, not only in Al Hoceima, but maybe even in Rabat or Casablanca. They humiliate us and keep putting us down."
Another woman protester said: "Every time they keep killing one of us, among the poorest in the country, using the excuse that this man had done something illegal. They always steal sea resources illegally and nobody says anything about that. They're not facing any charges."
The death has echoes of the incident that sparked an uprising in Tunisia in 2011, when a fruit and vegetable seller set himself on fire after his produce was confiscated by police.
Thousands protest in Morocco after fisherman crushed to death in garbage truck – video https://t.co/KClp6TVP1s

— The Guardian (@guardian) October 31, 2016
The Brief: Morocco protests; Burma's burnt villages; Calais crisis; Yemen airstrike; shooting the messenger in #DRChttps://t.co/vsQV7UQVBBpic.twitter.com/VRloh0UIdl

— Human Rights Watch (@hrw) October 31, 2016
Protests erupt in Morocco after fish vendor #MouhcineFikri was crushed to death when he tried to retrieve his fish from a garbage truck. pic.twitter.com/kj4rzwpLu8

— Al Jazeera English (@AJEnglish) October 31, 2016