Germany coach Low signs contract extension
Comments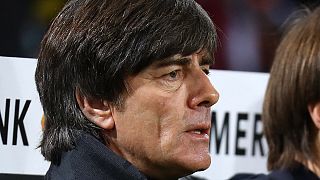 Germany coach Joachim Low has signed a new contract extension that will keep him at the helm of the world champions until 2020.
Low will hope to lead his team to victory in the 2018 World Cup and become only the third team to win back-to-back titles while also firmly in his sights is victory at the 2020 European Championships which will be held across the continent.
He told reporters: "(The 2018 World Cup) is of course our main aim, and beyond that of course, is the European title that is happening in different countries for the first time. This is, of course, a special challenge. We did not make it this year, we got knocked out in the semi-final and for me it is a big aim to achieve what we haven't managed in the last years – to be European champions."
Low has a solid record with the nationalmannschaft winning 94 of his 141 games in charge and steered the side to at least the semi-finals in the last five major tournaments.
In signing his new contract the 56-year-old is set to become the second-longest serving Germany manager behind Sepp Herberger.