Uber loses UK driver employment case
Comments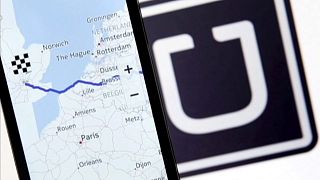 Uber's business model has been dealt a major blow by a British employment tribunal.
This is a monumental victory that will have a hugely positive impact

GMB union's legal director
Responding to a case brought by two of its drivers, with the backing of a trade union, the tribunal judges ruled the taxi app can no longer treat those drivers as self-employed.
That means it would have to pay them the minimum wage and offer paid holidays. The judges also said that working hours began from the moment most drivers logged into the app rather than just per ride.
This is just the latest setback for Uber which has faced protests, bans and legal action around the world, particularly from traditional taxi drivers who are angry about the service which allows users to book and pay for a car via a smartphone.
The tribunal judges said it was "unreal" for Uber to deny it is in business as a supplier of transportation services, adding: "Simple common sense argues to the contrary."
Uber plans to appeal.
Gig economy repercussions
The decision could affect thousands of others who work for firms, including meal delivery services such as Deliveroo.
They are part of the so-called "gig economy", where individuals work for multiple employers day-to-day without having a fixed contract.
"This is a monumental victory that will have a hugely positive impact on drivers … and for thousands more in other industries where bogus self-employment is rife," said Maria Ludkin, legal director at the GMB union which brought the case.
The issue of low pay and a lack of job security has sparked a public outcry in Britain in recent years with firms such as retailer Sports Direct facing a backlash over their use of zero-hour contracts.
In April, Uber agreed to pay up to $100 million (91 million euros) to settle a class-action lawsuit in the United States which allowed the ride-hailing service to keep its California and Massachusetts drivers as independent contractors.
Here's the key section of the Uber judgement on control ie on who is really in charge – the driver or Uber – the tribunal said Uber pic.twitter.com/qG2DCKCG11

— Torsten Bell (@TorstenBell) October 28, 2016