Moldova to choose between Russia and Europe at the ballot box
Comments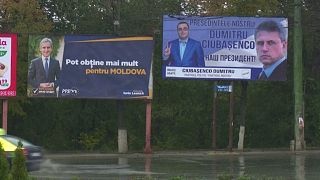 Moldova goes to the polls to elect a new president for the first time since 1996.
The turnaround comes after the country's Constitutional Court judged the decision, taken in 2000 for the parliament to elect the president, was unconstitutional.
.Igor_Dodon</a>: .<a href="https://twitter.com/sandumaiamd">sandumaiamd, să fiți la birou! Venim să semnați angajamentul că nu veți colabora cu Plahotniuc https://t.co/80MzTeYXmJpic.twitter.com/Z7lyzc8tTC

— Moldova.org (@moldova_org) October 28, 2016
The man who leads in the polls is Igor Dodon, a pro-Russian candidate and former
economy minister. He vows to restore a strategic partnership with Moscow.
Dodon wants to annul the economic component of the Association Agreement with the EU signed in 2014.
The centre right option is Maia Sandu, she is running in second spot and describes herself as a pro-European Moldovan. The former education minister believes that the government must convince the country and Brussels of its sincerity to continue with the European project and not look back to Russia.
Situated between Romania and Ukraine, Moldova is one of the poorest countries in Europe.
(doc) Maia Sandu îi răspunde liderului PSRM: Dodon este un pla­gi­a­tor. Încă pe 5 octom­brie mi-am asu­mat un… https://t.co/zfW3XdZjU8pic.twitter.com/uhEfAyyw75

—

UNIMEDIA

(@unimediamd) October 28, 2016
The World Bank says 41 percent of the population is living on less than €5 per day.
In 2014 the country erupted in protest when it was discovered that $1bn had disappeared from the county's banking system in a complicated fraud involving three of the country's banks.
Politicians and business people were discovered to have been involved and arrested and sentenced.
The reverberations from the scandal continues and the fledging democracy is in a struggle to survive.