Filipino sailors freed by pirates arrive home in Manila
Comments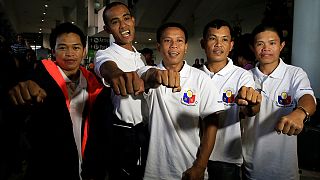 Five Filipino sailors – held captive by Somali pirates for more than four years – have arrived in Manila.
They were among 26 sailors from China, the Philippines, Cambodia, Indonesia, Vietnam and Taiwan recently freed off the coast of the Seychelles.
The group was captured in March 2012 aboard an Omani-flagged vessel while sailing through the piracy-prone Seychelles.