Venezuela: policeman killed as anti-government unrest spreads
Comments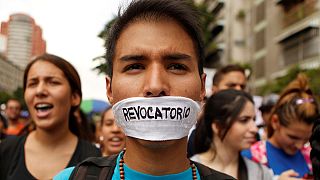 Anti-government protesters across Venezuela have clashed with security forces as unrest spreads.
A policeman was shot dead on Wednesday night in the central Miranda state. Police confirmed the death but did not link it to protesters.
Protesters faced off with the National Guard in the western town of San Cristobal, which was a focal point for violent demonstrations against President Maduro in 2014.
The capital Caracas also saw a large demonstration.
The opposition says 120 people were injured and 140 detained during Wednesday's often violent protests.
Amid severe economic hardship there has been fury since a push for a referendum to remove the left-wing leader was suspended. Opposition leader Henrique Capriles said the suspension was illegal.
The opposition-led parliament has voted to open a political trial against the president.
Tensions are described as being at near boiling point, and the demonstrations saw many a verbal dispute as angry protesters challenged security forces.
"I want my children, my grandchildren, my great-grandchildren to have freedom and have a decent life, a normal life like all Venezuelans deserve. This should be a wonderful country," said one elderly protester in Caracas, who gave her name as Teresa.
Venezuela has the world's biggest oil reserves but a recession and soaring inflation have hit many poor families.
Although the president does enjoy some support, his critics blame him for overseeing the unprecedented economic crisis. The opposition has called for a mass walk-out on Friday and a march on the presidential palace next week.
Maduro, who narrowly won an election in 2013 following the death of Hugo Chavez, has vowed to stand firm, saying low oil prices and what he calls a US-led "economic war" are the reasons for the country's plight.