Movers and shakers gather in Madrid for World Football Summit
Comments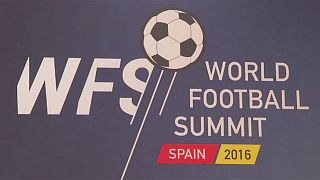 Over the years Football has evolved from being just a sport to a multi-billion euro business.
The movers and shakers behind the Beautiful Game have gathered in Madrid, Spain this week for the World Football Summit – an event where the main protagonists of the sport get together for two days to discuss and plan the future of the football industry as an economic and social development force.
Rick Parry is the former CEO of Liverpool Football club, the former head of the FA Premier League and now a member of the Uefa Financial control body.
When was asked about his views on the rise in Asian investment at top tier European clubs, Parry said: "It brings another of layer of complexity, on the other hand it brings much needed riches for the clubs, and the danger is not just to waste that. And also of course brings the opportunity to reach a fan base which can be enormous, I mean China 1.3 billion people, India the same, you know, vast numbers of people, growing interest in football. These are the Countries that are really the next great frontier."
Despite the jaw-dropping sums of money enjoyed by English Premier League clubs – the investments have failed to produce results on the European stage in recent years.
Parry explained: "Although the Premier League has generated way more revenues than others in recent years, and is spending double of the other leagues in term of wage bill. As you rightly said it's actually fallen behind in terms of European success. Which in some ways it's a bit of mystery, but on the other hand I think part of the reason is the Premier League is so competitive, it's really difficult, every game is a challenge."
Football is a truly global sport, one of passion and commitment from players and fans alike.
It is one of the professional sectors with the most economic momentum and although nowadays it has become much more than a game it's still one everybody wants to win.