IOC strip three Kazakh weightlifters of 2012 Olympic gold medals
Comments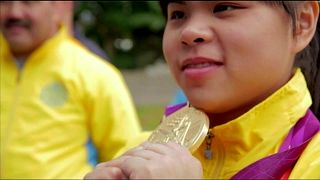 The International Olympic Committee dealt another blow to drugs cheats on Thursday when they disqualified eight athletes from the 2012 Games in London.
Three female weightlifters from Kazakhstan were among the eight and were stripped of their Olympic gold medals from four years ago.
All eight tested positive for performance-enhancing anabolic steroids.
The three Kazakhs to lose their gold medals are Zulfiya Chinshanlo, Svetlana Podobedova and Maiya Maneza.
The other five athletes were Belarussian weightlifters Marina Shkermankova, who won bronze in the 69kg category, Dzina Sazanavets and Yauheni Zharnasek as well as Russian pole vaulter Dmitry Starodubtsev and hammer thrower Kirill Ikonnikov.
The tests are part of the massive undertaking by the IOC to re-analyse past samples from the 2008 and 2012 Games and root out the cheats.
The latest revelations come a day after nine other athletes tested positive for steroids from Beijing 2008.
So far a total of 98 re-tested samples have come back as positive for banned substances.