Clashes erupt in Diyarbakir over mayor arrests
Comments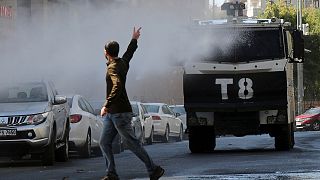 More than two dozens demonstrators have been detained, after clashes erupted on the streets of Diyarbakir in Turkey.
Anger is boiling over the arrest of the joint mayors of the mainly Kurdish city, who are accused of having links to militants.
Police moved in with tear gas and water cannon.
Gulten Kisanak, Diyabakir's first female mayor, and Firat Anli, her co-mayor, were detained on Tuesday.
This was part of a security crackdown after more than a year of violence in the region.
The arrests also sparked protests in Istanbul.
Turkey's president Recep Tayyip Erdogan said the removal of elected officials and civil servants – accused of links to the Kurdistan Workers Party, or PKK – is crucial in Ankara's battle against the armed group.
Last month, new administrators were appointed in two dozen Kurdish-run municipalities, after the elected mayors were removed over suspected connections with militants.