Aid mission steps up for Mosul as anti-ISIL forces close in
Comments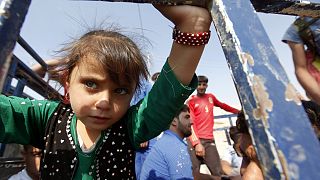 International aid for the people of Mosul has begun arriving in Iraq, as the offensive continues to oust ISIL from its last major urban stronghold in the country.
In Erbil, the Turkish Red Crescent dropped off more than 530 tons of supplies on Tuesday including food, clothing, tents and blankets as camps spring up to accommodate those fleeing the fighting. The United Nations believes up to one million people could be displaced.
As Iraqi government forces and allied Kurdish Peshmerga fighters approach the outer limits of the city where ISIL proclaimed its 'caliphate' two years ago, a mass exodus of civilians from within is expected. So far, many of those fleeing have come from towns and villages outside Mosul.
The first force to get near to Mosul, advancing to within two kilometres of Iraq's second largest city, was the elite US-trained Counter Terrorism Service (CTS).
While progress made so far has been widely hailed, the combat ahead is likely to be more difficult and deadly because of the presence of large numbers of civilians.
It is also feared that so-called Islamic State could use rudimentary chemical weapons to try to hold back the impending assault and use civilians as human shields.
Isil using Mosul civilians as human shields, Pentagon says, as US braces for militants using chemical weapons https://t.co/GNkjqGYa1z

— Telegraph News (@TelegraphNews) 19 octobre 2016
Well over a week into this US-backed offensive, these are still the early stages of an assault which could become the biggest military operation in Iraq in over a decade.
For now, aid agencies are helping those they can and bracing for a much bigger challenge ahead.
Distributed family water kits and hygiene supplies to displaced Iraqis near #Mosul yesterday in Ibrahim Khalil pic.twitter.com/ZzE9ZpCfXl

— UNICEF Iraq يونيسف (@UNICEFiraq) 25 octobre 2016
Amir, 6, is one of approximately 33k displaced Iraqis in Debaga Camp. Most have recently fled conflict in #Mosulpic.twitter.com/09bcWRnbag

— UNICEF (@UNICEF) 25 octobre 2016