Hide or get killed: boys trapped by Albania's blood feuds
Comments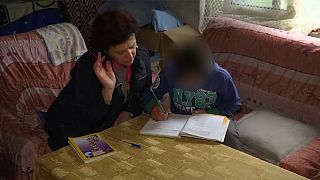 In Albania, one of the Balkan states waiting in the wings to join the European Union, Liljana Luani is on a mission.
I live with their suffering, with their pain and their families' pain

Teacher
The 56-year-old teacher travels to the northern hills where most people – even police – fear to set foot.
She goes there to find Albania's hidden children: a generation trapped in a centuries-old tradition of blood feuds between neighbouring families .
These honour killings were largely eradicated during the nation's 45-year Communist rule. But they've now been revived in remote areas where the rule of law is weak and illegal weapons abound.
Luani heads to a run-down home where a 40-year-old mother lives with her three teenage sons. The woman's husband is in jail for murder, and they live holed up at home because the boys could be killed in a vendetta if they simply stepped outside.
Luani goes there to teach the youngest son, in the hope it will help him escape the fear and the violence.
"This is what pushes me to go door to door to visit the kids that have blood feud problems. I live with their suffering, with their pain and their families' pain and now I'm more emotionally involved," Luani says.
Making mentalities change
It's estimated that several thousand people, including young children, live like outcasts, trapped by Albania's bloody vendettas.
The children's identities can't be revealed for fear they will be found and killed. According to a code of conduct that dates back to the 15th century, the Kanun, only men and boys can be targeted or told to avenge their relatives. That can happen anywhere but in the family home.
Luani remembers how one of her pupils was shot dead in an ambush on his way to school.
"It's been two years since they killed him, he was an adolescent. I will never forget this child," she says. "I can still hear his voice, and his laugh in the school corridors when I'd mess up his hair and he tried to fix it, I will never forget it. This misfortune didn't spare him, the blood feud took his life."
An accident or a land dispute can be enough to start a cycle of tit-for-tat killings. Luani hopes to make mentalities change.
"I think that for this generation, basic education… is a very strong weapon to stop this blood feud phenomenon," she says.
With AP