Video shows Italian police stopping migrant van at French border
Comments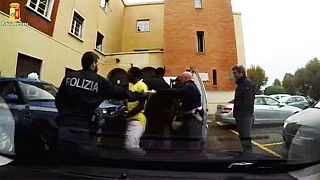 Italian police have released a video showing them intercepting a minivan containing migrants at the French border.
The small truck, which was moving at high speed towards the frontier, was chased and stopped at a toll station by plain clothes policemen armed with pistols.
Seventeen people, all of African origin, were later freed from the van and taken into custody. The van driver, a 39-year-old Italian man, has been charged with aiding and abetting illegal immigration, and inhumane and degrading treatment of people.
One of the migrants told police he feared dying of suffocation inside the vehicle.
The Italian town of Ventimiglia close to the frontier has become known as 'mini Calais'. More than 1,000 migrants are stuck, and the Red Cross and the charity Caritas run centres there.
Each week hundreds of migrants fleeing war or poverty try to cross into France which has tightened border controls after the terror attacks of the past year.
Thousands have been arrested on the French side and sent back to Italy.
Several organisations have warned of poor sanitary conditions and there've been calls for France to re-open its border on humanitarian grounds.