Mystery remains over fate of European Mars lander Schiaparelli
Comments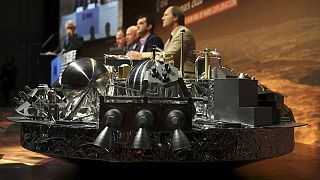 The fate of a European probe supposed to have touched down on Mars on Wednesday remains a mystery.
At a news conference on Thursday morning, experts from the European Space Agency (ESA) admitted they can't even be sure the Schiaparelli lander is still in one piece!
A problem arose as a parachute was released to slow its descent to the Red Planet.
Essential data from #ExoMars Schiaparelli is being decoded. What we know so far: https://t.co/ZflMgUTaMkpic.twitter.com/Y5qbqg0bvj

— ESA_Schiaparelli (@ESA_EDM) 20 octobre 2016
Scientists said data had been received showing the parachute and the lander's heat shield
deployed successfully, but that it was unclear what happened in the final seconds before landing and no data had yet been received from the surface.
Euronews reporter Jeremy Wilks attended the news conference in Darmstadt, Germany.
They got very very close with #Schiaparelli, but just not quite the final step.

— Jeremy Wilks (@WilksJeremy) 20 octobre 2016
Schiaparelli, which is testing technologies for a rover due to follow in 2020, represents only the second European attempt to land a craft on Mars.
On the bright side, the lander's mothership on the ExoMars mission – known as the Trace Gas Orbiter (TGO) – is functioning and successfully in orbit around the Red Planet.
YES! CONFIRMED! I'm in Mars orbit! #ExoMarspic.twitter.com/9qsegy8Hh2

— ExoMars orbiter (@ESA_TGO) 19 octobre 2016
The ExoMars collaboration between the European and Russian space agencies is seeking signs of past and present life on Mars.