Mexican judge shot dead as El Chapo's extradition to US confirmed
Comments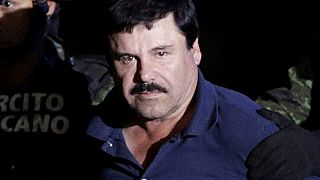 One of Mexico's most notorious drugs lords, Joaquin "El Chapo" Guzman, has taken a step closer to extradition to the United States after a judge ruled the deportation could go ahead.
Guzman's lawyers were appealing against a May foreign ministry ruling,and say they will take the case to the country's highest court, but prosecutors say they are confident this will fail and he will be extradited early in the new year.
Guzman was recaptured in January after a six-month escape from a maximum security jail.
Guzman's Sinaloa cartel is one of Latin America's most feared organised crime gangs.
Mexican police are also investigating the shooting of 37-year-old judge Antonio Zacarias. He was shot in the head in broad daylight while jogging, and was well-known for a number of high-profile cases, notably blocking El Chapo's extradition earlier in the year. There is no suggestion of any link between the El Chapo ruling and Zacarias's murder.