Fierce resistance and ISIL threats as Mosul assault progresses
Comments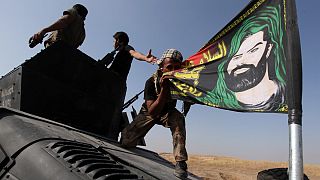 On day three of their Mosul assault and despite fierce resistance, US-backed Iraqi government forces and Kurdish Peshmerga fighters are slowly but surely closing in on ISIL's last city stronghold in Iraq.
Our morale is high

Peshmerga Officer
Reports say dozens of jihadists have been killed and their car bombs destroyed as the advance pushes ahead.
But this will be a long campaign and while outlying territory is being liberated, it could be weeks or months before Mosul itself is free from the jihadists' grip.
The big push into the city itself is expected to be the biggest battle in Iraq since the 2003 US-led invasion. Recapturing Mosul would deal a decisive blow to the self-declared caliphate of ISIL also known as Daesh.
Why the suicide bombings in Mosul are so terrifying https://t.co/eL2SOZ5piS

— TIME (@TIME) 19 octobre 2016
"We will hold these areas until we reach the outskirts of the city," said Peshmerga officer Major Shwan Ihsan, whose forces have captured a cluster of nearby towns and villages.
"This is the start of operations to liberate Mosul. Our morale is high. We were able to repel Daesh when they were strong and now they are very weak."
Never short of propaganda, the so-called Islamic State, also known as Daesh, has released a video purporting to show its fighters on the city's streets.
One of them warns the United States that there will be no victory in Iraq, telling them "you will leave, once more, humiliated and disgusting in defeat".
For U.S. and Obama, Mosul campaign is calculated risk https://t.co/PUAOjt09Yo

— Reuters Top News (@Reuters) 18 octobre 2016
Thousands of hardline militants, including some of ISIL's best fighters, are thought to be still in Mosul, which is five times the size of any other city the militant group has held. But a population of some 1.5 million civilians there will also be in harm's way. Thousands of people are fleeing the looming battle.
The people we've spoken to who fled the #Mosul assault are all sharing the same stories of fear + destruction. https://t.co/sWxmz1uRFDpic.twitter.com/hAF6WswqWx

— UN Refugee Agency (@Refugees) 18 octobre 2016
The head of Russia's General Staff said on Wednesday that Moscow was concerned that militants holed up in
Mosul might escape to Syria, saying they should be killed on the spot instead.
"It's essential not to chase the terrorists from one country to another but to destroy them on the spot," Valery Gerasimov said in a statement.