Eurozone inflation rises in September
Comments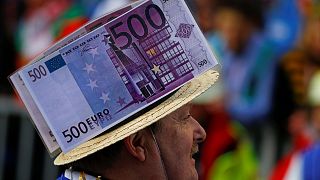 Inflation in the eurozone got a caffeine and nicotine fuelled boost in September.
People paid more in restaurants and cafes. Cigarette prices also rose, along with rents.
Among the things that got cheaper was energy, but it did not fall as much as back in the summer when oil prices dropped.
As a result consumer prices in the 19 countries using the euro rose 0.4 percent month-on-month and by the same amount year-on-year.
The data are good news for the European Central Bank which has been trying to stimulate the region's economy amid concerns about stagnant prices leading to deflation.
ECB policymakers are due to meet on Thursday and there are expectations they will start looking at reining in the volume of extra emergency aid they give to the eurozone economy next year.
The ECB wants to keep inflation at below, but close to two percent over the medium term.
Eurozone 'deflation vanquished'; inflation rises to two-year high https://t.co/a7GqVzKPmY

— Financial Times (@FinancialTimes) October 17, 2016
The numbers
Food, alcohol and tobacco prices rose 0.7 percent year-on-year in September
Unprocessed food was 1.1 percent more expensive year-on-year
Energy prices were 3.0 percent lower than a year earlier, but up 1.0 percent from August
Core inflation (without volatile energy and unprocessed food items) rose 0.4 percent on the month for a 0.8 percent year-on-year gain
A #Bloomberg#survey predict #ECB president Mario #Draghi will prolong bond-buying https://t.co/lSNoKmKO4Nbusiness</a> <a href="https://twitter.com/hashtag/Eurozone?src=hash">#Eurozone</a> <a href="https://twitter.com/hashtag/investing?src=hash">#investing</a></p>&mdash; Lisa Brouwers (LJBrouwers) October 17, 2016