Eurozone manufacturing improves, but still very uneven
Comments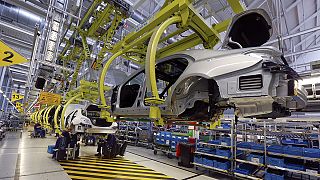 Manufacturing in the eurozone picked up last month.
The latest surveys of businesses showed demand for their products increased both in and out of the region.
As a result manufacturers hired more workers.
"For a region beleaguered by still-high overall unemployment, the fact that the upturn is generating more jobs is especially good news. The latest rise in factory payroll numbers was one of the best seen over the past four years," said Chris Williamson, chief business economist at IHS Markit which carried out the surveys.
However, behind the headline there was a mixed picture.
#Eurozone mfg #PMI at 52.6 in Sep. Solid growth in #Germany, #Austria and #Netherlands. #Greece + #France in decline https://t.co/goJAkyi5Q7pic.twitter.com/MRrlTabaUj

— Markit Economics (@MarkitEconomics) October 3, 2016
The upturn was very uneven and centred on Germany and some of its neighbours, the Netherlands and Austria.
There was growth in Spain, Italy and Ireland but it was far weaker than earlier in the year.
Factory output in France continued to lose momentum while in Greece it contracted.
"The big picture is that there have been some modest improvements in the manufacturing outlook recently. But the big question is still what is going on in the service sector," said Ben May at Oxford Economics.
Growth in the bloc's dominant service sector was probably at its weakest since late 2014, a sister survey due on Wednesday is expected to show.
On the inflation front there was some good news for policymakers at the European Central Bank as the manufacturing upturn came despite firms only slightly trimming prices.
Consumer prices grew 0.4 percent in September, according to official data released on Friday.