Nigerian schools reunited with families
Comments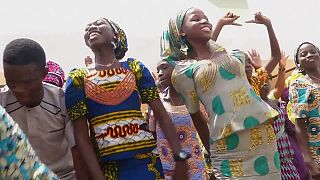 Twenty-one schoolgirls recently released by the Nigerian militant group Boko Haram have been reunited with their families.
There were scenes of joy during a church service in the capital Abuja as they met relatives for the first time in two and half years.
The girls, now young women, were among over 200 female students seized from a school in Chibok in 2014 in Nigeria's remote northeastern Borno state, where Boko Haram has waged a seven-year insurgency aimed at creating an Islamic State.