"Trump is an equal opportunity insulter" - Clinton
Comments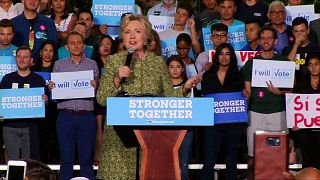 Democratic presidential nominee Hillary Clinton has called her rival Donald Trump "an equal opportunity insulter".
Clinton spoke out a few hours after two women accused Trump of inappropriate touching in a story published on Wednesday by the New York Times.
Trump's spokesman dismissed the article as "fiction".
Critics say it may further damage the Republican presidential nominee's chances of winning the White House, just four weeks before the election on November 8.
"He's insulted everybody"
Speaking while on campaign In Las Vegas, Clinton said describing Trump's comments as "locker room talk" does a disservice to locker rooms.
"You know from the NBA, from Major League Baseball, from the NFL, they are coming forward and you know what they're saying 'hey not in our locker rooms, that's not what happens'. But he's not just insulted women, he's an equal opportunity insulter, he's insulted everybody."
The comments
Trump's comments about groping women without their consent surfaced last Friday.
The New York billionaire described the remarks as "locker room banter" and apologised to Americans.
The report has been followed by a stream of similar allegations from other women.
"He was like an octopus," said a woman who sat next to Trump on a plane. "His hands were everywhere." https://t.co/RdEEK2o7FB

— The New York Times (@nytimes) October 13, 2016
Denials
The pressure is increasing on the Trump campaign as it lags in the national opinion polls.
Trump's campaign denied there was any truth to the New York Times accounts.
It made public a letter to the newspaper from Marc Kasowitz, a lawyer for Trump, calling it "libellous" and threatening legal action if it did not comply.
The letter demands the story be retracted.
Trump demands a retraction from The New York Times https://t.co/CoKoW9Bmeapic.twitter.com/jLJPlUnccO

— Washington Examiner (@dcexaminer) October 13, 2016
Republican disapproval
A string of senior Republican officials and officeholders have distanced themselves from Trump since the 2005 video surfaced.
The polls
The latest poll suggests Donald Trump has fallen further behind Hillary Clinton among likely voters and now trails her by eight points.
A new Reuters/Ipsos poll, released on Tuesday, shows Clinton has increased her lead over Trump to eight percentage points from five points last week.
The national tracking poll was launched after Sunday night's second presidential debate, where Trump was pressed to expain his comments in the 2005 tape.
However, the poll also found 58% of Republicans want Trump to stay at the head of the party list.
68% say the Republican leadership should stand by him.