Controversial champ Fury vacates titles and has licence suspended
Comments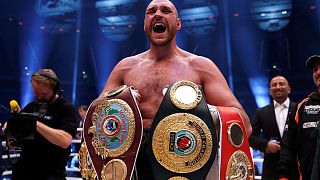 The Tyson Fury saga took another twist this week when the British boxer announced he would be vacating his WBO and WBA titles in order to focus on mental health problems.
The 28-year old nicknamed the 'Gipsy King' has not been back in the ring since beating Wladimir Klitschko in November 2015.
It was Klistchko's first defeat in 11 years.
Fury twice called off the rematch with the 40-year old Ukranian – once in July due to an ankle injury and again last month for an unspecified medical condition.
He has since admitted taking cocaine to battle depression but in June was charged with a doping offence by the UK's anti-doping body – an appeal hearing is scheduled for next month.
On Thursday the British Boxing Board of Control confirmed the inevitable – that Fury's licence was suspended "pending further investigation into anti-doping and medical issues."
It is unclear whether Fury will return to the ring some day but for now his 11-month reign as world heavyweight champion has come to an inauspicious end.