Italy keeper Buffon wins Golden Foot award
Comments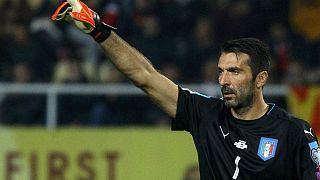 Italy and Juventus goalkeeper Gigi Buffon added another trophy to his long list of individual accolades this week when he was awarded the 2016 international Golden Foot award.
Organised by the World Champions Club, the award recognises the best active footballer of the year aged 28 and over and is based on votes by media as well as members of the public.
Buffon beat a whole host of star studded nominees including Cristiano Ronaldo, Wayne Rooney and Lionel Messi.
After receiving the award at a ceremony in Monaco, the 38-year old told reporters: "For me, I'm very proud to have won. I hope that I have deserved it, and more than anything else I think that it was given to me for what I've done and what I'm doing. All the people who like me and who have confidence in me, this is a really powerful recognition."
The award also recognises off-field values and conduct and honours achievements over the course of a player's career.
Past winners of the prize include Samuel Eto'o, Francesco Totti, Ryan Giggs and Zlatan Ibrahimovic.