No games for Rome as city council scotches Olympic bid
Comments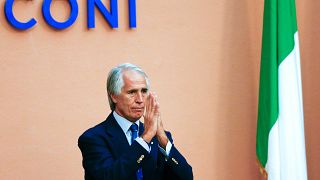 The Italian capital Rome has officially confirmed it is withdrawing its bid for the 2024 Olympic Games.
It follows a vote by the city council abandoning the project. Only Paris, Los Angeles and Budapest remain in the competition to be hosts.
The opposition Five Star party took control of Rome in a landslide in the summer, and Mayor Virginia Raggi campaigned to stop the games coming.
"An alternative plan? There was one. There could have been one. Formally, there is still one: the mayors of the towns of the Lazio region, the provincial towns around Rome, the 11 other Italian cities which were involved in our proposal. But there is a problem: they will never vote for us anymore. We have lost all our credibility on this bid. That's what I wanted to tell you, the synthesis of my thoughts. Despite our excellent team, this is the hard reality of the matter,' said the head of the Italian Olympic Committee Giovanni Malago.
Mayor Raggi said the city needed money spent on other things, and that the games would indebt Rome and bury it under concrete, despite the Italian government supporting the bid.